Showing up for the Muse - Watching time go by with a painting a day and showing others where to look
Visibly Shaken
January 22, 2022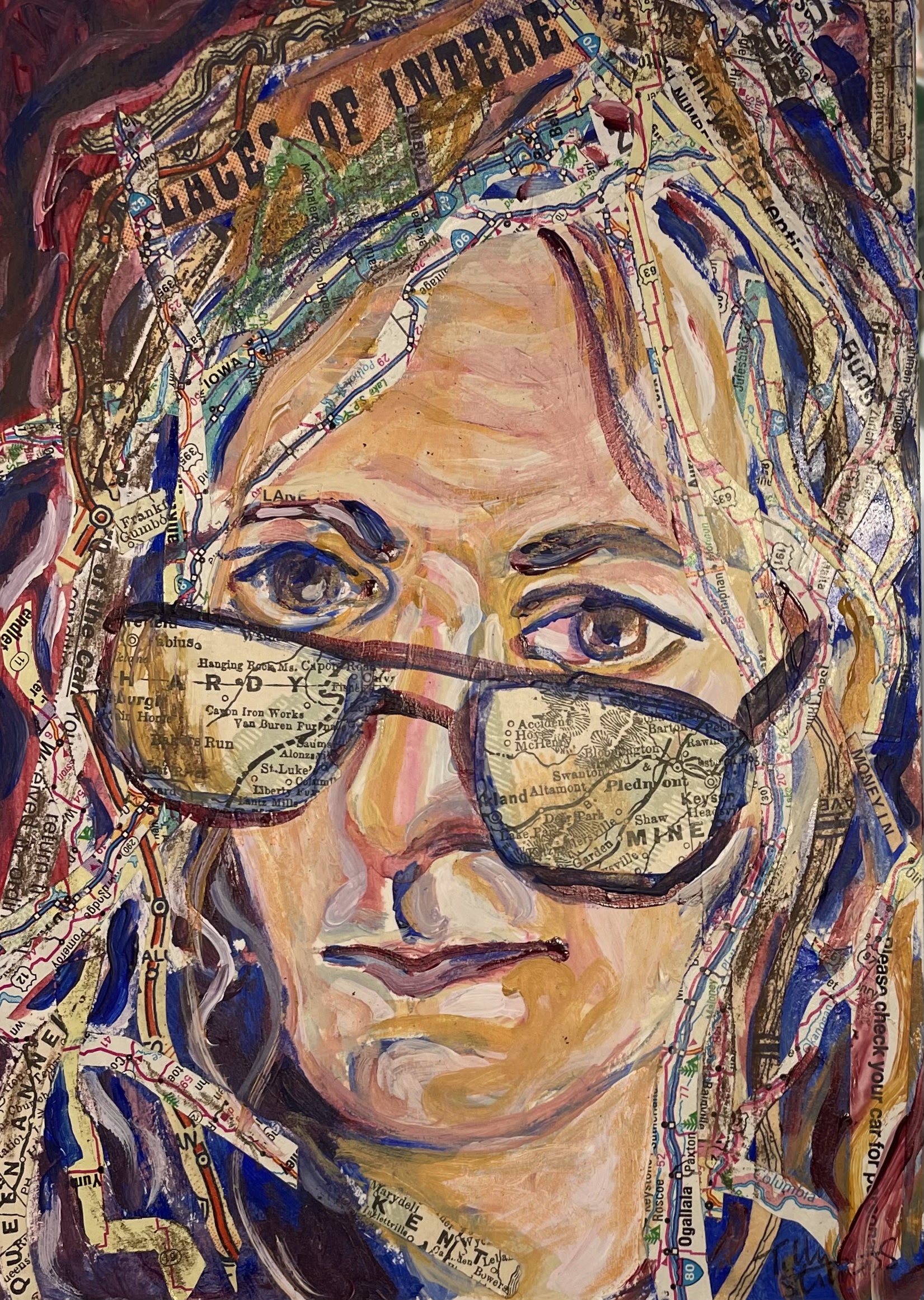 Perhaps it is the triple threat of a new year, finding myself 60 years old and in a novel government job, that gets me peering har
d into the calendar, the mirror and the myth.
The new year is a natural time to switch calendars and start new planners. January seems the month to revisit goals and make resolutions, and to reflect on how I have shown up, as well as who is new and who is missing. There are no kids in the house anymore. The covid years, and resulting lack of visitors, have me less defined by housework.
Being 60 adds a new cloak of invisibility to my wardrobe. Sometimes I am startled by my reflection, and I see how much I look like my mother. There is also a newfound sense of abandon. I care less about the social restraints of the patriarchy. I ache for a revitalized sisterhood, and I find myself greeting the moon, in all her cycles, as an old friend. My nurturing impulses, faced with an empty nest, have shifted my focus more deeply toward the community and wider environmental politics.
As Town Clerk of North East NY, I find myself in a totally novel position. I'm not a teacher, or an artist, or an explorer. Instead, I am a historian, a record keeper, a resource, and member of a tight group of secretaries. The childhood spent playing with office supplies has come full circle. I can be in my glory with file cabinets, complex self-inking stamps, binders, clips, and pens. People come to my office with questions I research. Every day is as varied as the season, and the faces are the people who make up this beautiful area. It's an incredible honor to be trusted and of service. As one of the many rolls I play, I am also, quite unexpectedly, Receiver of the Taxes. It is a challenge. I think of the Beatles song. I think of sheriff Nottingham and Robin Hood. Nobody likes the tax collector. Anger, frustration, and fear is vented towards a cartoon figurehead, who happens, right now to be me!
In the vein of owning my own visage, I have returned to my Art History as Seen through the Family Tree passion project. The grand narrative of history is a backdrop to multiple family members who participated in major movements. Each generation had its blind spot and from their personal stories and my perspective, I reflect in painting on a history that is far from perfect and continually revealing. My goal this winter and spring is to find an agent or publisher. I will be posting the process on my Instagram (tilly strauss) account and sharing insights as I go along.
To keep up to date, please sign up for the blog I have been writing on since 2006 at: www.tillystudio.blogspot.com
TREE CONVERSATION SERIES
April 2021
That I am not a natural at languages clearly stands out with a father who speaks about nine and a little sister who lives and speaks fluently in France. It was truthfully my crayon and paintbrush that helped me communicate and make friends.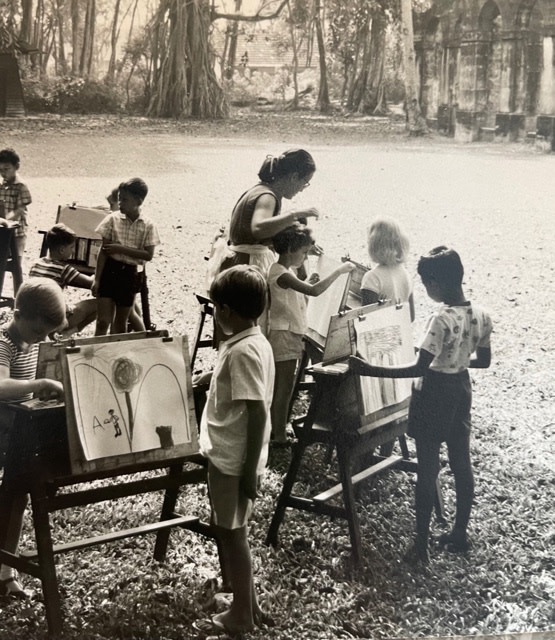 Trees were my first friends. At age four, I attended an art school located somewhere between an ancient stone temple and the massive aerial roots of a banyan tree in Kuala Lumpur. I have the earliest, distinct, memory of the sound, smells and visual abundance of walking on paths strewn with a variety of shaped leaves.
During the lockdown last year, when the calendar cleared and everything went quiet, I undertook a painting project that would pit my skills against a variety of arboreal characters.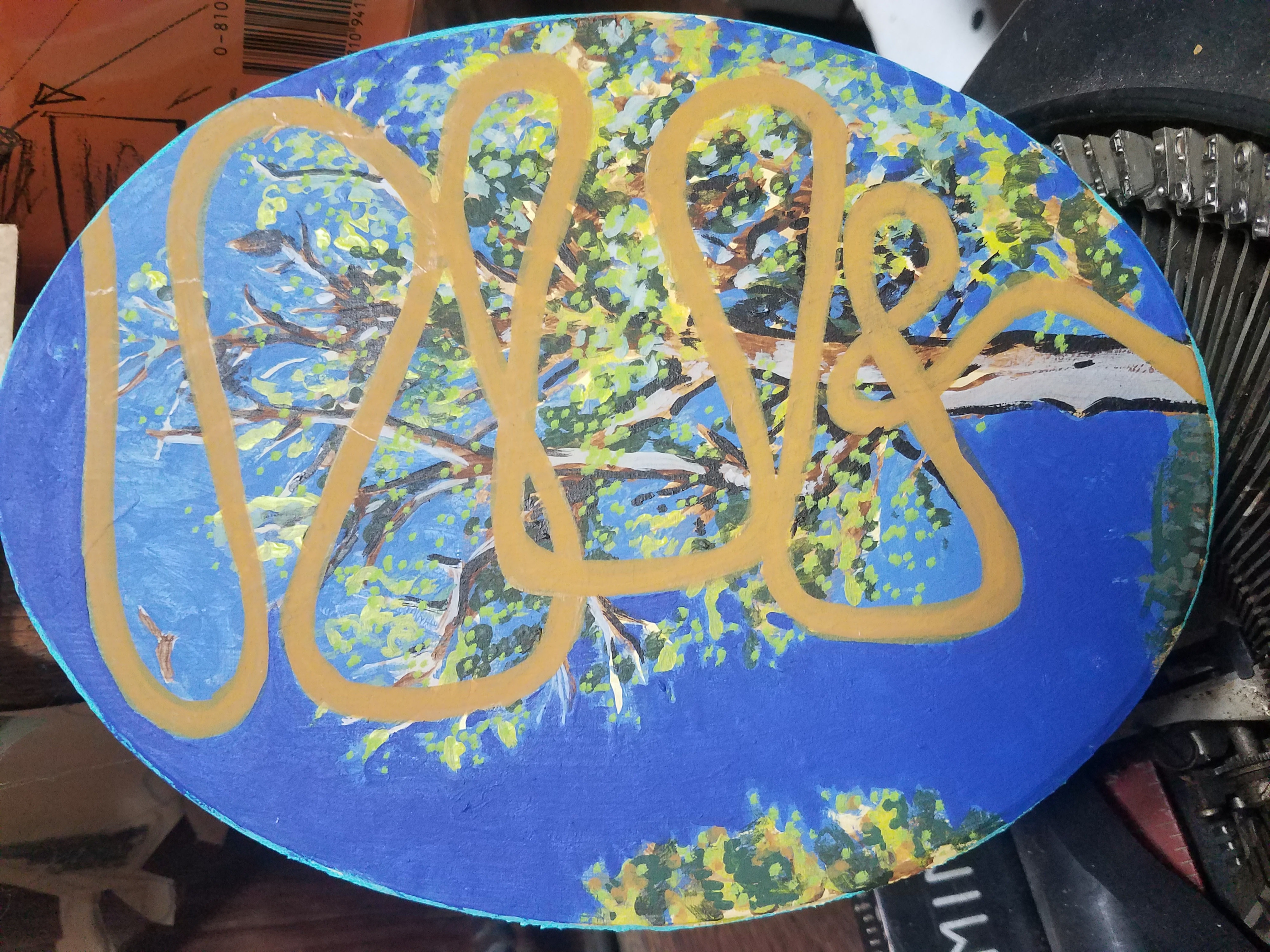 As an art teacher, I have exhorted my students to identify their inner critic. We all have one or two, (or more). The tenacity of those belittling voices can ruin the fun of any painting session. It is through my teaching that I confronted memories of my own.
In second grade, I painted a mural of a holiday pine tree in my Haitian classroom. Proudly standing back to look at the result, I was crushed when my teacher leaned to my ear and whispered, 'You really can't paint trees, can you?" Granted, I was trying a new "textural brush work", but her voice still rings true over 50 years later!
As I contrived to once and for all learn how to paint a tree, I studied the limbs, roots, bark, and crowns. Entering into the space of a tree I felt their energy emanating towards me! I can hardly pass one nowadays without saying "hi" or "hello". Just looking closely at them brings me a sense of understanding, peace, and joy.
Each of the 8 x 6 x ½ inch Tree Conversation paintings is acrylic on a hand cut birch-ply oval panel. Every panel is drilled with a recess in the back so as to hang flush to the wall. In addition, every painting's backside contains quotes or thoughts taken from a variety of sources and pertaining to a leafy conversation.
Starting the first weekend of May, at our open studio on the farm, I will have a couple dozen to share. On May 3rd I will launch a website sale of my favorites on my store for a limited time only. Please email me with any questions you may have. It is my hope that we all use whatever language comes naturally to us, to converse with nature. I have found it an easy way to get a spiritual measure of oneself.
Thank you
January 13, 2021
To be totally truthful, I can't answer this.
But there is some history and a flash point I can share.
I've grown up among artists and always enjoyed walls, cabinets, shelves and lawns full of art. My parent's friends and my grandparents all had amazing collections or were creators themselves. So there was always lots of art around. Not only did it tone the atmosphere of the settings, but a surplus lay stacked under beds, lined racks in the basement and moldered in rolls up in the attic.
Then there was my Selina Trieff moment...
(continue reading at www.tillystudio.blogspot.com)
NOT ALL HOSPITALS ARE EQUAL
March 19, 2020
In the light of today, when countries around the world are scrambling to build hospitals, virus testing sites, and labs, I can't help but reflect on the glorious façade of the Ospidale degli Innocenti.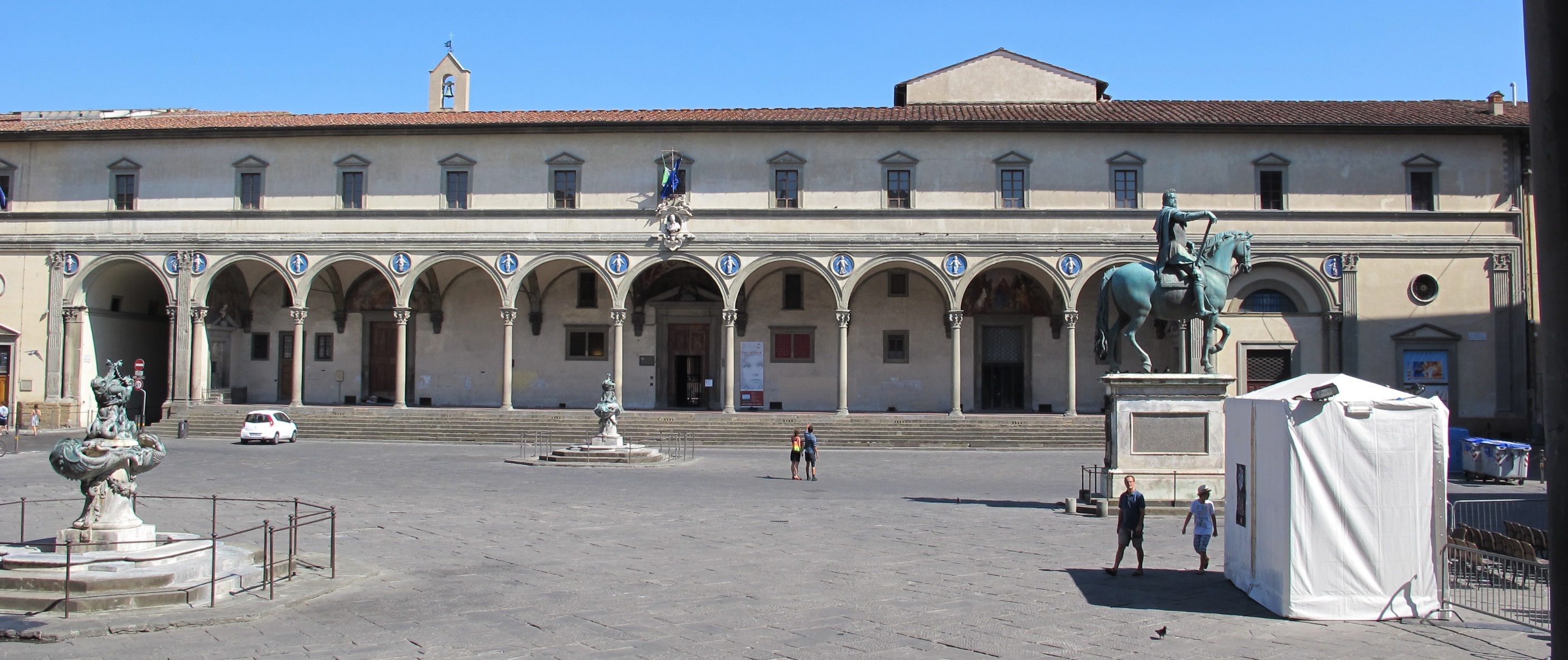 Back in the late 1400's, the Silk Merchant Guild of Florence hired Filippo Brunelleschi, who would go on to become one of the renaissance's greatest architects, to build a building to receive and house orphan babies as community service.
Brunelleschi pulled together ideas of scale and optics that glorified human proportion and signaled the beginning of the Renaissance in Europe.

The hospital façade is longer than tall. A colonnade of composite columns rhythmically punctuates the full front. Each column is placed apart at a distance that equals their height and the arcade behind them maintains the same measurement, creating a series of cubes. Sweeping arches fly up from each capital and leap down the length of the building, like a beating pulse. In the triangular spaces where the arches meet there are oval framed ceramic babies in sculptural relief. Above, on the top floor of the 2-story building, the rectangular windows have triangular caps that visually lift the weight of the horizontal building upwards. The design incorporates grey stone and white stucco to break up the space into geometric patterns. The whole building feels light and measured.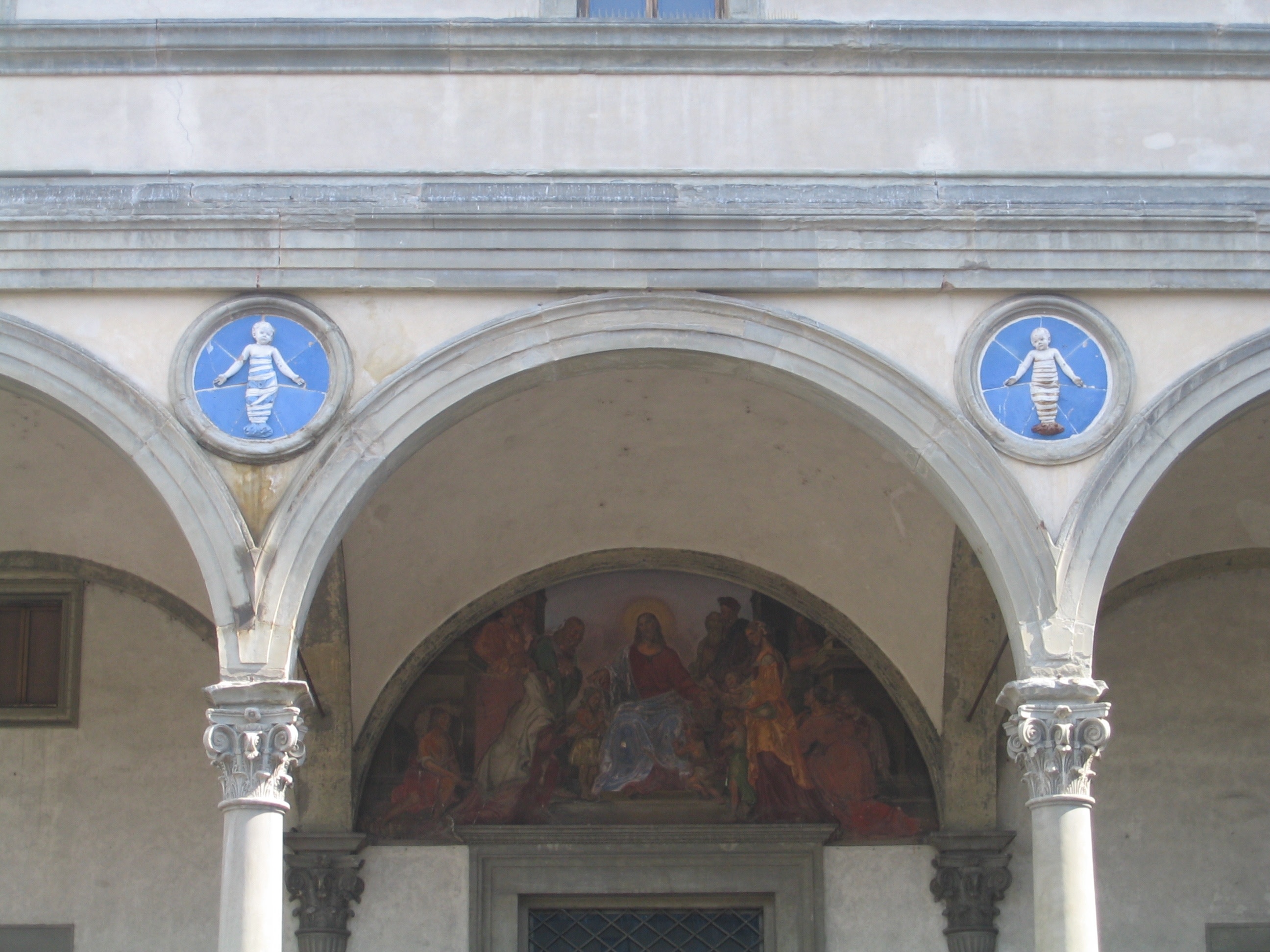 Brunelleschi was a trained goldsmith, and sculptor, but when in 1403 he only won second place in the competition to create panels for the Florence Baptistery doors, he seemed to quit all that and turn to architecture. He is known for designing innovative machines to help construction, and for his greatest masterpiece, a wonder of the world, the largest Dome of the time, the Dome of Santa Maria del Fiore. It is more then 150 feet across and involved construction 180 feet in the air. It took 18 years to build and there were only three accidental deaths recorded! Brunelleschi, a problem-solver, patented many innovations to get the job done. Born in 1377, he died ten years after the completion in 1446 and is buried under the dome.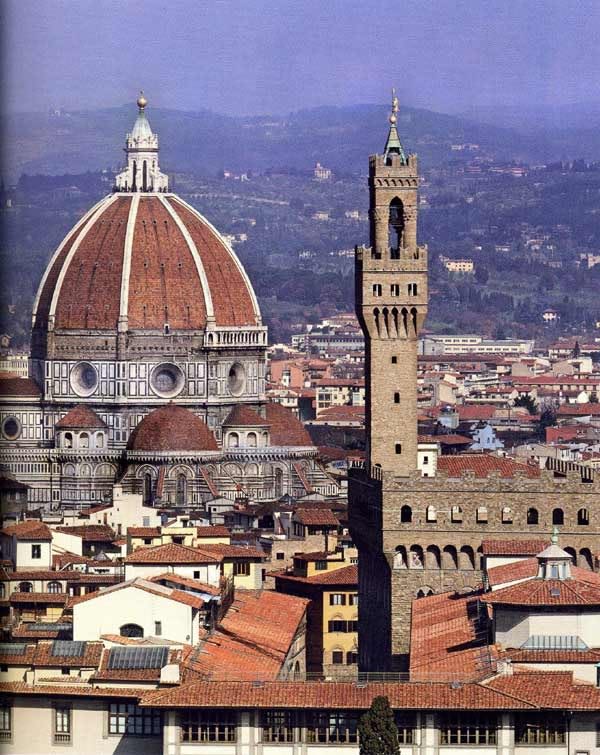 My son, another problem solver, is working in construction with a company proposing fast pop-up buildings for FEMA. It looks as though they will be made of extruded recycled plastic, and dome like in shape. I wonder if asking for columns and arches would be too much?
March 9, 2020
Today with all the news headlines are of crashing stock markets and shutting markets, uncertainty (and insensitivity) in political leadership and a contagious, possibly terminal, epidemic on the loose, we can look to the arts for humor, brevity, distraction or focus. Artists ideate and imagine. Ideation is the process of pulling forth solutions to a question. The role of the artist is to imagine- and that means to give form to an image, movement, or sound as a solution.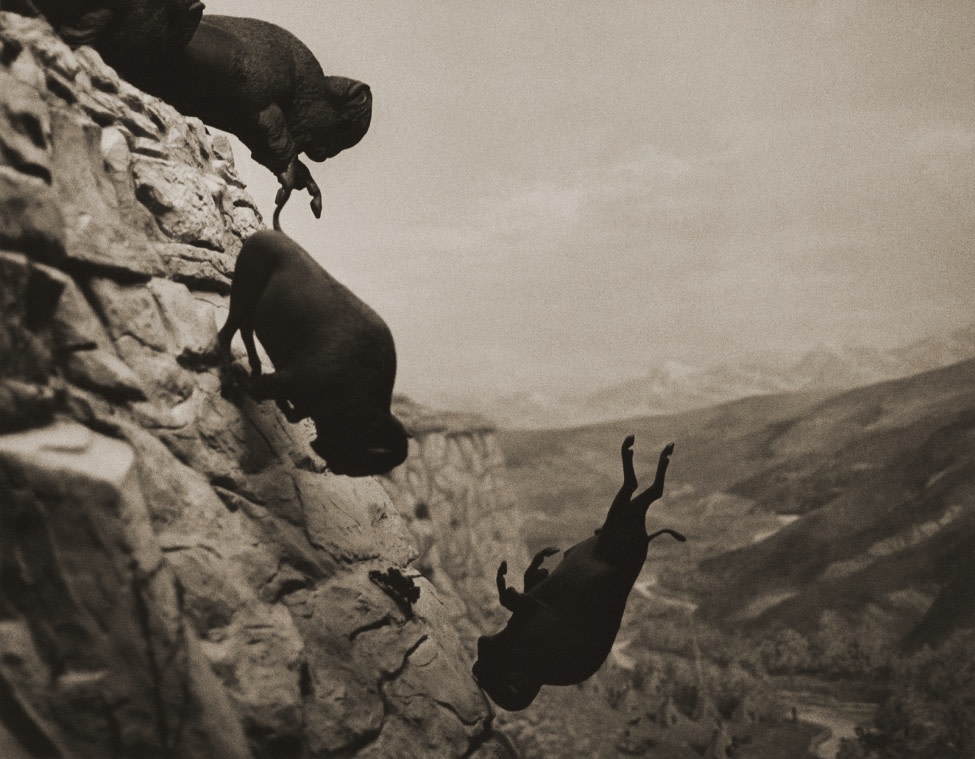 I am reminded of an artist who was able to alter a simple iconic image and make it resonate as the voice of the disenfranchised. In his best images he combined rage and tenderness. David Wojnarowicz (1954-1992) was an American artist at the peak of his career in the 1980's. Working under the slashing (and insensitive) government of President Reagan and amidst the scorched earth Aids body count. He turned his personal confessional expressions into powerful political activism. Wojnarowicz suffered a life of childhood abuse, homelessness, teenage prostitution, and by the time he a young adult he was losing his friends to the aids crisis. His art famously clashed with forces of censorship and repression. He called out, with his art serving as a social critique, the political mythmakers such as Jesse Helms, the NEA and the conservative Christian's who would rather insist in the invisibility of the poor and vulnerable. His most famous work, Untitled, 1988-89 is a platinum print photograph taken as a cropped section of a natural history diorama. It is of the American buffalo jumping, one after the other, over a cliff. The image is beautifully developed and haunting. It symbolized the hopelessness people felt within the medical crisis looking at government policies. His image brilliantly spoke to the marginalized, from the Native Americans (the diorama story) to the Aids victims.
When a friend apologized for making art that was less than political, that focused on beauty, Wojnarowicz replied, "…these are so beautiful, and that's what we're fighting for. We're being angry and complaining because we have to, but where we want to go is back to beauty. If you let go of that, we don't have anywhere to go."
When I think of the Coronovirus leaping around the globe and adding to the daily death count, I think of one of the most terrifying paintings in history, the Triumph of Death, an oil-on-wood-panel painting, created in 1562. It has something, like this virus, of everyone's worst nightmare. Set along a coast in a village with commerce, the scene looks like a premonition of hell. Flames and smoke dot the horizon. It's an eco-horror. There isn't a sign of any green life in the landscape. Trees are being chopped down. The land is scorched and rust colored. A bloated fish gasps on the shore. The painting is of a jumbled panicked populace surrounded by almost quaint little scenes of victims stuck in torture contraptions, and coffins sinking into the mud in the surrounding fields. It looks like the cursed forecast of what we can expect if the stores run out of medical masks, or you are stuck in an airplane full of coughing aliens.
Not enough is known about Pieter Bruegel the Elder, the artist from the Netherlands who worked in the 1500's. No one knows his birth date, but the time he was registered in an art guild (1551) to his death (1669) he executed 40 paintings and 60 prints. This particular painting is hung at the Prado Museum in Madrid.
In The Triumph of Death, the hysteria is loud and panoramic. Men, women, babies, the rich, the poor, the laborer, the gamblers, soldiers, monks, and kings, are all tormented and terrified. Skeletons arrive in massive numbers and outnumber the living. They interrupt meals, disrupt commerce and dismantle forts. They amass an army, creating a wall of coffin-shaped shields. They arrive on boats and by horseback. They pull wagons piled high with skulls, trampling over the Fates with their spools of threads, and herding crowds into a large dark door: a death trap in the side of a hill. They wield long silver scythes and blow on trumpets, even making musical instruments out of bones. A woman, face down, cradles her baby while dogs eat it's face. A man is hung with his pants down. A bewildered king is taunted by a skeleton holding up an empty hour-glass.
Everyone in the painting is in the throes of death except for two young lovers in the lower right corner. They are seemingly oblivious as they play music and read. But, behind them, a skeleton has picked up an instrument and is playing along.
On a barren hill to the left, two skeletons ring a large black bell.
Painted during a time when northern Europe was rocked by pandemics, reeling under the ruling religious wars, and leery of the inventive fury of the Inquisition, pictures such as this were called "moral paintings" because they were warnings to live right. No one was/is immune to death. Washing hands hadn't caught on and religion, literally, could kill.
Art can show us where we are and where we could be.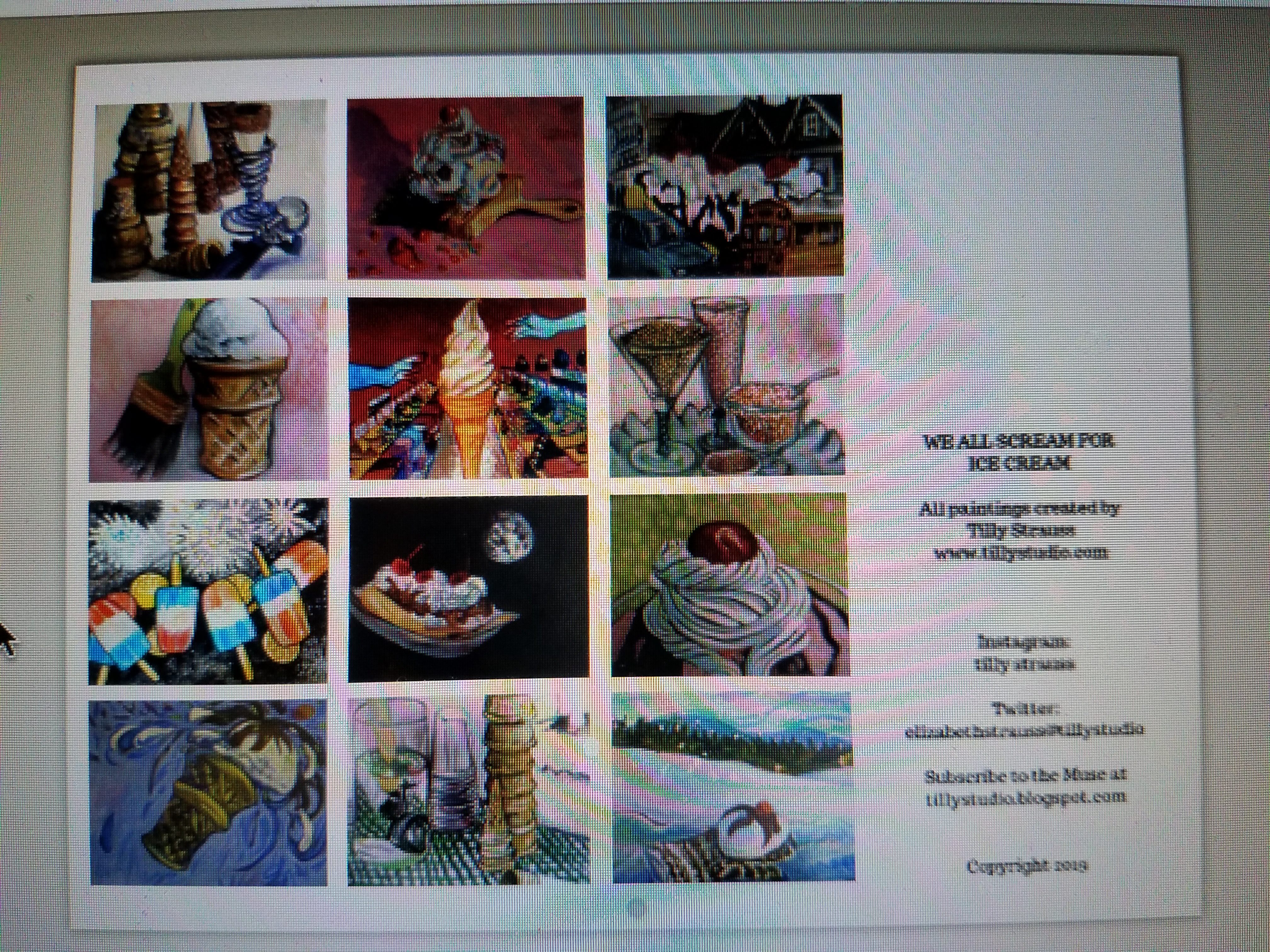 blogging since 2006
Memory Under Canon

acrylic and paper on wood

9 x 9 in
22.9 x 22.9 cm